Yesterday was the Fourth of July — a day to kick back with a beer and a burger and watch some fireworks while thinking about all the things that made the United States into the country it is today. Unfortunately, this year's July 4 festivities were besieged by rain here in New York, so I spent my holiday doing the next best thing: Watching anime and playing Final Fantasy.
Triumph Is Giving Us The Small Displacement Bikes We've All Been Yearning For
But in combining those two forms of media — in this case, Kill la Kill and Final Fantasy VII Remake — I noticed something. Something so niche, so unmemorable, that anyone but me would likely ignore it: This singular bike design keeps coming back, time and time again, and I'm desperate to figure out what it is.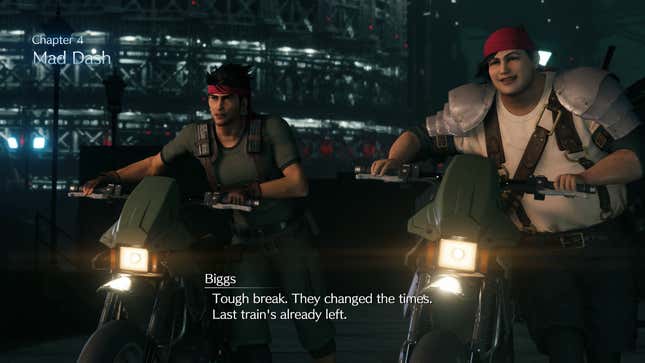 I first really took notice of this shape from Final Fantasy VII Remake, during the level where my close personal friends Biggs and Wedge used two of these bikes to help my other close personal friend Jessie Raspberry visit her parents and steal some explosives. Cloud Strife, professional wet rag, was also there.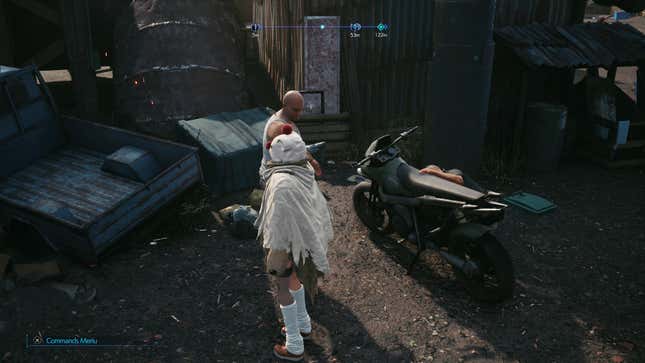 The bikes in FFVII are wholly alien. They exist in a society that doesn't even seen to use gasoline — Shinra-provided mako energy likely explains the lack of fuel tanks — yet there's something so familiar about them. They have elements of Yamaha's TW200, Kawasaki's KLR650, and Suzuki's DRZ400. I figured that was neat, the designers cribbing from multiple real-world dual-sports to make something that fits right within the city of Midgar.
But still, something felt off — like I'd seen this bike somewhere in person before. It felt familiar in a way that alternate world art design usually doesn't. Then, I watched Kill la Kill, and became obsessed.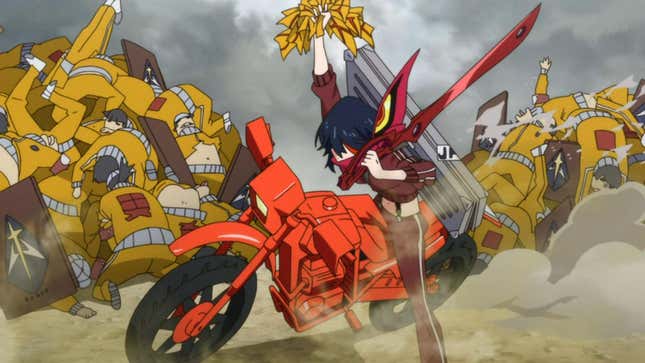 Ryuko's motorcycle, I posit, is the exact same bike as the ones used by Cloud, Jessie, Biggs, and Wedge. The wide, flat bars, the high front fender, the inverted front struts, the rectangular headlight beneath a body-colored fairing. Even the flat enduro seat, stretching from the bike's triangular tank back to a rear grab rail, is the same — though art shift between sections of the episode makes it unclear whether the bike from Kill la Kill has alloy wheels, like the shot above, or spoked rims like the header photo.
Seeing this bike, I came to a realization: There's no way these two happen to be the same combination of design elements borrowed from other dual-sport bikes. There must be a singular motorcycle, an ur-dual sport, that served as the design basis for both.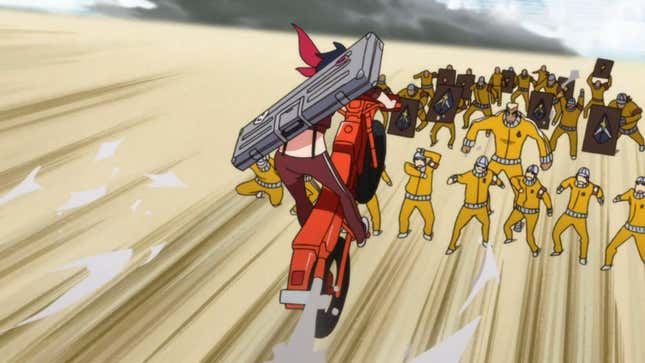 But what bike would that be? The Kawasaki KLR650 is too big, has too much suspension travel, and its fork isn't inverted. The Yamaha TW200 is closer to the right size, but the bikes from Kill la Kill and FFVII Remake lack the TW's distinctly massive rear wheel. The Suzuki DRZ-400 may be the closest bike on the market today, but its gap from the wheels to the fenders seems out of proportion to the bikes from the show or the game.
The closest design I've found so far is the now-discontinued Yamaha XT225 — a bike whose painted fairing, tall fenders, enduro seat, and triangular tank all match the fictional bikes. But even that Yamaha lacks the other bikes' distinctive inverted front forks, which stand out among the sea of upright-fork dual sports.
So, I bring my question to all of you: Just what in the hell bike inspired these two? There may be more than one answer, but I'm willing to bet there's at least one that fits a majority of those listed criteria — something that, definitively, inspired both bikes I saw this Fourth of July.