ATLANTA – Police and Atlanta officials are expected to announce an increased reward in their search for a group of people behind an arson attack at a police facility that destroyed several motorcycles in an alleged protest against the city's planned Public Safety Training Center.
The attacks happened over the Fourth of July weekend at two different police sites.
Homemade "incendiary devices" caused a fire early July 1 at Atlanta police's current training center on Atlanta's south side that destroyed eight motorcycles. 
"There were eight bikes that were destroyed," said APD deputy chief Timothy Peek, "but we had several others that we have to repair to get them back in service." 
An hour earlier, vandals had smashed the windows of police vehicles at another location. Authorities believe those involved intended to set those vehicles on fire as well but were spotted by a bystander.
Speaking after the vandalism, Atlanta Mayor Andre Dickens called the two events "some of the most significant attacks on public safe in our city and in our nation over the last year."
Many top city and state leaders accused activists protesting against the planned training center of being behind the vandalism.
Calling those responsible "anarchists," Atlanta Police Chief Darin Schierbaum said that members of the same group have tried to intimidate contractors connected to the training center project by flattening tires, vandalizing a home, spraying graffiti and setting fire to construction equipment.
Schierbaum cited web postings taking responsibility for the vandalism as evidence they were connected and said investigators believe the same individuals carried out each act.
"These acts are of a small determined group that does not represent a wider population," he said.
Dickens and others say the planned $90 million training center would replace inadequate training facilities and help address difficulties in hiring and retaining police officers that worsened after nationwide protests against police brutality and racial injustice three years ago.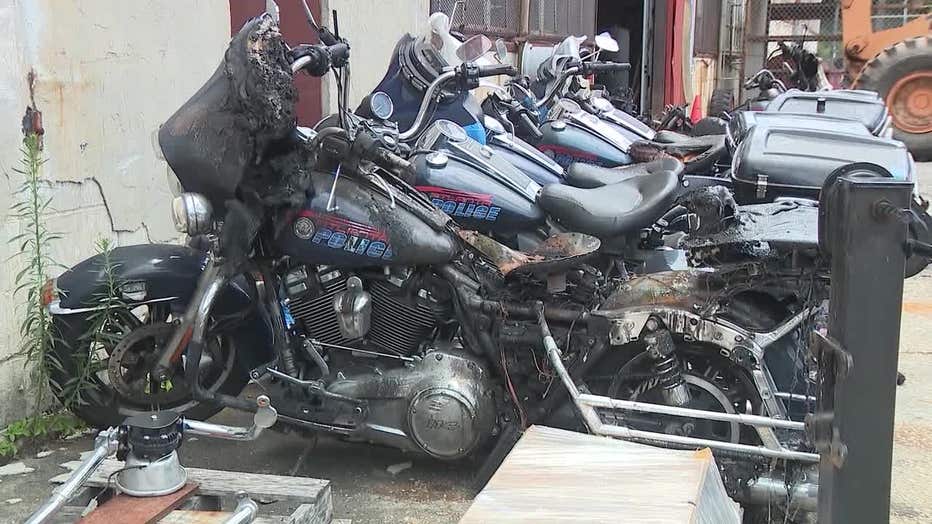 Opponents say they worry it will lead to greater militarization of the police and that its construction will exacerbate environmental damage in a poor, majority-Black area. They are hoping to force a referendum on building the project. The "Stop Cop City" effort, which has been joined by activists from around the country, has gone on for more than two years.
Dickens said he and police support peaceful protests against the center, but will not tolerate threats or violence.
More than 40 people have been charged with domestic terrorism in connection with protests at the site, where authorities fatally shot Manuel Esteban Paez Teran, who went by "Tortuguita" in January while clearing a campsite. City officials say officers fired in self-defense after the protester shot a trooper. The Georgia Bureau of Investigation is investigating the shooting.
The current reward for any information that leads to the arrest and indictment of those connected to the arson is $15,000.
The Associated Press contributed to this report.